Do you need a new Piggy Bank?
The Coink Piggy Bank.
Conveniently designed to store your loose change, this piggy bank transcends the "one coin at a time" models of yesteryear with its generous "quick dump" funnel.
I have got a fairly good collection of "Old Navy" Piggy Banks, and some from Germany. But none of them look like this one.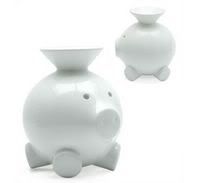 This is a neat way to save those pennies. Maybe I'll cruise over to the Museum of Modern Art (
MoMA
) Online Store and check it out.
Signing Off. Until next time, I'll see ya on the Blog! drh.