On this Day

Monday, June 6th
The 157th day of 2005
There are 208 days left in the year
Today's Highlights in History
On June 6, 1944, the D-Day invasion of Europe took place during World War II as Allied forces stormed the beaches of Normandy, France.

(
Go to article.
)
On June 6, 1875, Thomas Mann, the Nobel Prize-winning German author, was born. Following his death on Aug. 12, 1955, his obituary appeared in The Times.

(
Go to obituary
Other Birthdays
)



On June 6, 1874, Harper's Weekly featured a cartoon about the decimation of the buffalo in the American West.
(See the cartoon and read an explanation)
Reference:
The New York Times
Via:
Dwight D. Eisenhower Presidential Library
Digital Documents Project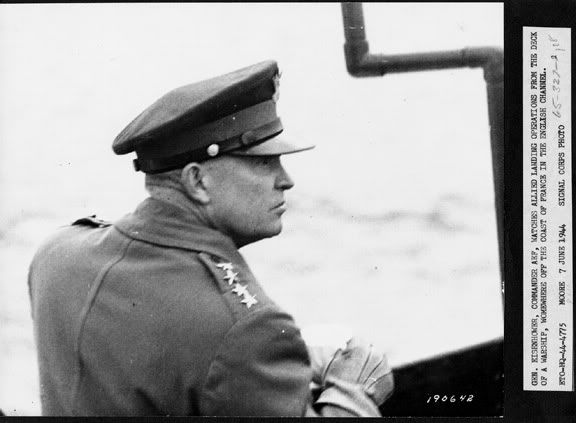 The D-Day operation of June 6, 1944 brought together the land, air and sea forces of the allied armies in what became known as the largest invasion force in human history. The operation, given the codename OVERLORD, delivered five naval assault divisions to the beaches of Normandy, France. The beaches were given the codenames UTAH, OMAHA, GOLD, JUNO and SWORD. The invasion force included 7,000 ships and landing craft manned by over 195,000 naval personnel from eight allied countries. Almost 133,000 troops from England, Canada and the United States landed on D-Day. Casualties from the three countries during the landing numbered 10,300. By June 30th, over 850,000 men, 148,000 vehicles, and 570,000 tons of supplies had landed on the Normandy shores. Fighting by the brave soldiers, sailors and airmen of the allied forces western front and Russian forces on the eastern front led to the defeat of German Nazi forces. On May 7, 1945, German General Alfred Jodl signed an unconditional surrender at Reims, France.

The following via
Iraq War Today
Today in History

1523 - Gustavus I becomes king of Sweden.
1639 - Massachusetts grants 500 acres of land for construction of a gunpowder mill.
1816 - Following an eruption of Mt. Krakatoa, New England sees a 10" snowfall, during the "year without a summer."
1862 - The city is surrendered after the Battle of Memphis.
1918 - The first U.S. victory of WWI occurs at the Battle of Belleau Wood.
1932 - A Federal gas tax is enacted.
1936 - Aviation gasoline is produced commercially for the first time in Paulsboro, NJ.
1942 - The first nylon parachute jump occurs in Hartford, CT; Japanese forces retreat, ending the Battle of Midway; Nazis burn the village of Lidice Bohemia in order to avenge the killing of
Reinhard Heydrich.
1944 - D-Day: 150,000 troops in the Allied Expeditionary Force land in Normandy, France; Theodore Roosevelt, Jr., receives the Congressional Medal of Honor.
1946 - Henry Morgan becomes the first actor to take his shirt off on TV.
1967 - The Six Day War between Israel and its Arab neighbors begins.
1971 - Air West Flight #706 collides with a Navy Phantom jet over LA, killing 50; Soyuz 11 takes 3 cosmonauts to the Salyut 1 space station.
1975 - The Provisional Revolutionary Government of South Vietnam is established.
1977 - The Supreme Court rejects automatic death penalty laws.
1982 - 30,000 Israeli troops invade Lebanon in order to drive out the PLO.
1984 - 1,200 die in the Sikh "Golden Temple" uprising in India.
1985 - The body of Nazi criminal Dr. Josef Mengele is located and exhumed; Soyuz T-13 carries 2 cosmonauts to the Salyut 7 space station.

Birthdays
1755 - Nathan Hale,patriot, said "I regret that I have but one life to give for my country," hanged
1756 - John Trumbull, American painter(Declaration of Independence)
1872 - Alexandra, last Russian czarina
1928 - George Deukmejian (Gov-CA)
1932 - David R. Scott, Col. USAF/astronaut (Gemini 8, Apollo 9, 15)
1933 - Heinrich Rohrer, Swiss physicist / Nobel Prize winner
1935 - Dalai Lama Tibet, Tibetan spiritual leader

Passings
1862 - Confederate Brigadier General Turner Ashby, in battle
1967 - Edward G. Givens, Jr., astronaut, auto accident
1968 - Robert F. Kennedy (Sen-NY), assassinated
1976 - J. Paul Getty, oil magnate

Reported Missing in Action
1964
Klusman, Charles F., USN (CA); Escaped August, 1964 - alive and well as of 1998
1967
Son, Ha Van, Commando (Vietnam); Released February, 1989 - alive and well as of 1998
1968
Burgard, Paul E., USMC (OR); Pilot, killed in CH46A crash, remains recovered June, 1968
Harper, Ralph Lewis, USMC (IN); Killed in CH46A crash, body not recovered
LaPlant, Kurt Elton, USMC (KS); Killed in CH46A crash, body not recovered
Palacios, Luis Fernando, USMC (CA); Killed in CH46A crash, body not recovered
Sanchez, Jose R., USMC (NY); Killed in CH46A crash, body not recovered
1972
Fowler, James A., USAF (ND); F4D shot down
Seuell, John W., USAF (ND); F4D shot down