The Urinal as Art
Clark Sorenson
has designed, put on exhibit, and sold a few of his collection of Flower Shaped Urinals and other Nature Inspired Sculptures. The exhibit is called
"Nature's Call."
For only $7500.00, you can have this beautiful Nautilus Shell Urinal in your bathroom.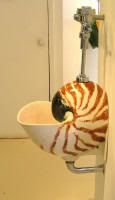 All pieces are made of high fire porcelain and fired to cone 10 in an oxidation atmosphere. The urinals are made of the same material of commercial toilets and can be installed and used. Each has been hand built and is a one-of-a-kind work of art - these pieces are not molded or mass produced . . .
This would go good with the
Aquarium Toilet
, and
Sink
.