The Most Beautiful Bulldog
Meet Tiberius.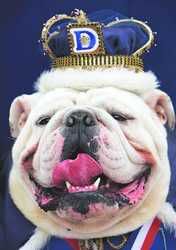 (c)
THE NEWS TRIBUNE
Last updated: April 26th, 2005 02:35 AM
Tiberius sits on the throne after being crowned the 26th Drake Most Beautiful Bulldog on Monday in Des Moines, Iowa. The pageant kicks off a festival at Drake University, where a bulldog is mascot.
Signing Off. Until next time, I'll see ya on the Blog! drh.