COL David H. Hackworth, a Vietnam veteran (4 tours), and a strong advocate for improvements in the military, died today in Mexico, where he was receiving treatments for bladder cancer.
I have read and listened to COL Hackworth for a numer of years. He was a vocal personality, speaking from the heart to improve equipment and conditions for military troops. There are many who will miss him.
Condolences to COL Hackworth's family and friends for their loss.
From
Yahoo News:
Vietnam Vet, Journalist Hackworth Dies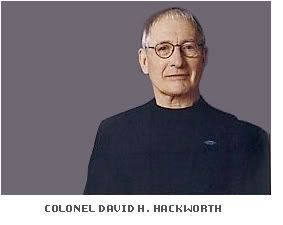 HARTFORD, Conn. - Retired Army Col. David Hackworth, a decorated Vietnam veteran who spoke out against the war and later became a journalist and an advocate for military reform, has died, his wife said Thursday. He was 74
"Hack never lost his focus," said Roger Charles, president of Soldiers for the Truth, a California-based veterans group for which Hackworth served as chairman. "That focus was on the young kids that our country sends to bleed and die on our behalf. Everything he did in his retirement was to try to give them a better chance to win and to come home. That's one hell of a legacy."
Also see
David H. Hackworth
and
Soldiers for the Truth
Signing Off. Until next time, I'll see ya on the Blog! drh.