Need a New Ring?
Now YOU TOO can ALWAYS have a bottle opener.
For just $9.99 (plus S&H) you can have
The Ring Thing.
From the products
Web Site: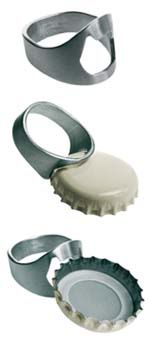 Top 5 reasons to own a Ring Thing:
1) Opens bottles with a flick of a wrist. – All About Beer magazine

2) This multipurpose bling adorns my hand and pops the tops off my beer bottles – Wired Magazine

3) Women were amazed; men were jealous. – Chicago Tribune

4) It's a reasonably priced gift for any occasion, and may be the talk of the party – St Louis Post Dispatch

5) Save your teeth… here's a piece of jewelry a thirsty cat can really dig – Biker Magazine

Signing Off. Until next time, I'll see ya on the Blog! drh.