Hardcore Teddy Banned from Bear parade
Who would have ever known that there was such a thing as a "Man Sized Teddy Bear Parade?" Well, in Zurich, there is such a thing.
While tourists pose for snaps next to a brightly-painted and benign array of models such as the "schoolteacher bear" and the "skier bear," "Baervers" -- a pun on the German for perverse -- has been deemed too steamy for the financial capital's streets.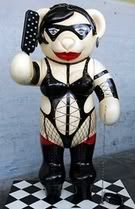 A dominatrix giant model teddy painted wearing a leather mask and brandishing a paddle and hand-cuffs stands in a yard in Zurich, May 24, 2005 after the project's artistic director banned it from sober Zurich's street display of man-sized model teddy bears. The offending bear is perverse, dominatrix and hardcore and has to be banned because of the children, the project's art director told Reuters. REUTERS/Sebastian Derungs
Article
here
.
Slideshow
here
.
Thanks and a Salute to
Pam