More Things iPod
As I've posted before, I don't have an iPod, but there are some pretty neat things out there that I would want if I did. This is one such item.
Red, White, and Blue Deco Shuffle Cradle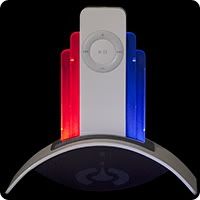 There are many things America stands for: apple pie, freedom. But most of all it stands for screenless flash players. Pressure Drop has announced a limited edition red, white and blue iPod shuffle dock just in time to celebrate the founding of our nation. This 4th of July, make America proud by keeping your iPod properly synched and charged for $31.99.
Via
Gizmodo