Star Wars Items for Auction
I'm a fan of
Star Wars
. A Fan, not a Fanatic. I could sure come up with better thigs to buy with my $60,000 than Luke's (and Anakin's) Light Saber.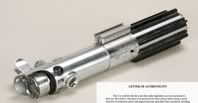 Gary Kurtz, producer of Star Wars and The Empire Strikes Back is auctioning off 85 items from his personal collection of memorabilia, including Luke (and Anakin) Skywalker's light saber and Yoda's cane. Profiles In History will sell the goods as part of their "Hollywood Auction 22" on July 29 in Beverly Hills. According to a
press release
, the light saber is expected to fetch $60-$80,000.
Link
Via

BoingBoing