Kites for Kids in Afghanistan
is a project spearheaded by SFC Doug Buntz, from a Forward Operating Base south of Ghazni City in the Ghazni Province of Afghanistan.
Want to help an Afghani child's spirit soar and help the U.S. Military at the same time? An American soldier serving in Afghanistan is looking for your help.

He is requesting donations of kites that he and his fellow soldiers can pass out to Afghani kids. It's a way to give something to children who have so very little in a war-torn country. (It's best if the donated kites don't have American cartoons on them that the children won't be able to relate to.)

It's also a way to help the military. The Taliban outlawed the beloved hobby of kite flying. So now, when soldiers see kites flying in an Afghani town, they know the Taliban isn't there and it's safe to proceed. But if there are no kites in the sky, they proceed with caution. Danger could lie ahead. The more kites they can pass around, the easier and safer their job becomes.
Here are a couple of emailsl from SFC Buntz:
Just got back from a patrol where I gave away some of the kites that I received from GWTW. The reaction on the kid's faces was pretty neat, especially once they got the kites up into the air.
I'm down in a province called Ghazni, which is about 80 miles south of Kabul. Our Forwarding Operating Base (FOB) is just south of Ghazni city. We went on a patrol to the west of Ghazni in an area called Khogiani. I took ten kites along with me and had the boys gather around and pick a number between 1-20. There were about 25 boys huddled around, so about half got a "karsparon" (kite in Pashtu).

Kids here have a pretty rough life. They start working around age 8. Herding goats, working in stores or gathering wood, and there's not alot of toy stores around. At first, the kids were unsure of what was going on, but they got the hang of it pretty quick and I got mobbed by more kids asking for more kites. The difficult part is that I can only take so many because space in the HMMWV's is pretty tight once we add all of our mission gear.

The names of some of the boys were: Mohammed Reza, Asidullah, Mirza Jan, Raqib, and Adbul Rahim. I'll try to get better at getting names but it's like a mosh pit of 8 - 13 year olds when we do something like this.

Again, I really appreciate everyone's help in getting this going. It's pretty amazing to see the look on the kid's faces.
-SFC Doug Buntz

Just got back from a humanitarian assistance patrol where we dropped off a bunch (couple of tons) of school supplies at six different schools, and while doing so, I had the chance to give out more kites. Our patrol area today was about 80-90 miles south of Ghazni in a district called Janda / Gelan. We stopped at the Aghovjan Boy's School, the Janda Police Station, the Latif Middle School and the Azad Boy's School.

I took a few more pictures this time, so I'll break them into three emails so that they can transmit a bit easier. I gave away everything I had so far, so if I think I'm ready for the next batch. So far I received 35 kites from GWTW and 67 from Jenny and I've given almost all of them away. I think I have a couple (5 or so) for the children of our translators.
-SFC Doug Buntz
Gone With The Wind (GWTW) is a company out of Chico, CA that has donated many of the kites, along with others.
This is a great project. It's good for the Soldiers and it's really good for the kids.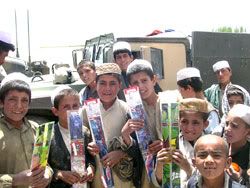 Thanks to my son, who has a very good relationship with GWTW, who sent me the
link
. Check it out, I think you will find it encouraging.
Hooah!!
to SFC Buntz and all who are helping in this effort.
Signing Off. Until next time, I'll see ya on the Blog! drh.