A Photo of Caring and Compassion
Duty. Honor. Country. A view of another American Soldier aiding citizens far from home. This young child was rescued by a US Army Major from Fort Lewis Washington after she was fatally wounded in a car bomb blast in Mosul, Iraq on Monday, May 2005. The attack injured 15 Iraqis. (
Picture released by the U.S. Army Tuesday, May 3, 2005
)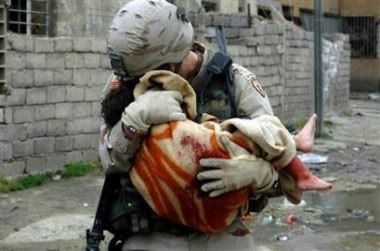 AP Photo taken by Michael Yon/US Army
Infantryman's wife saw the photo and knew
When Amy Bieger, mother of three boys, wife of an infantryman in Iraq, saw the picture on the Internet on Tuesday night, she stared at the little feet dangling in the nook of the man's arm, at the soldier's helmeted head pressed to the child's face. She stared and tears welled up.

"I said 'Oh my God, it is one of our soldiers,'" Bieger, 34, said yesterday from her home outside the Fort Lewis, Wash., Army post. "Then I stared at the [name] patch. I made out the rank and then the last four letters of the name and I knew it was my husband."
Complete story at
Newsday.com
See another story over at
Michelle Malkin
Update:
See yet another reference from
Ollie North
Update:
See what the photograper has to say
here
Signing Off. Until next time, I'll see ya on the Blog! drh.