Soldiers Transform Bunker into a Coffee Shop
Looks like the "Starbucks" effect has hit the War Zone. These enterprising soldiers have done it again. A taste of home in the Desert. Just goes to show you "Where there is a will, there is a way." A GREAT story for the MWR Morale, Welfare, and Recreation) folks.
HOOAH!!
Soldiers Transform Bunker into Coffee Shop
LOGISTICAL SUPPORT AREA SPRING LAKE, Iraq, May 9, 2005 — Thanks to an idea from the 620th Corps Support Battalion's non-commissioned officer-in-charge of personnel services and the hard work of numerous volunteers, the soldiers here have a quality coffee shop where they can kick back and enjoy a good cup of java.
Story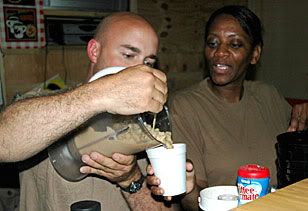 Sgt. 1st Class Rick Wiess, left, pours the first-ever batch of iced coffee at the Black Sheep Coffee House, April 17, 2005, while Maj. Sharon Wallace looks on. The coffee house was built and paid for and is maintained entirely through volunteers and donations. Wiess and Wallace are, respectively, the non-commissioned and commissioned officers-in-charge of Morale, Welfare and Recreation programs for the 620th Corps Support Battalion on Logistical Support Area Spring Lake in Iraq. U.S. Army photo by Pfc. Matthew Clifton
Signing Off. Until next time, I'll see ya on the Blog! drh.