Mt St Helens -- 25 Year Anniversary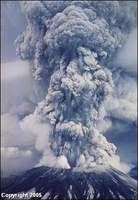 Mount St. Helens began erupting at 8:32 a.m. on May 18, 1980. Ash spewed by the volcano reached 80,000 feet in 15 minutes. This photo by Roger Werth of the Longview Daily News was included in the newspaper's 1981 Pulitzer Prize.
The Associated Press/Longview Daily News, Roger We
There are certain dates or events that will always stick in your mind. You always remember what you were doing on a particular day, or when a particular event occurred.
May 18th, 1980 is on such date for me. This was back when I was invincible. I rode a motorcycle at the time, did a lot of bicycle riding, and was tough as chicken lips.
My son and I decided to go for a motorcycle ride that Sunday morning. It was a gray day. We loaded the bike, climbed on, and went out the gates of Fort Lewis onto Interstate 5, heading south. There had been a lot of action at Mt St Helens, so I wanted to get down there to take pictures.
We rode for about 45 minutes or so, and something about the ominous black clouds in the south told me to change my plans and go somewhere else for the ride. Being from the Midwest, ominous black clouds indicate severe thunderstorms and generally really bad weather.
So, just south of Olympia, WA, we got off the Interstate, and started taking the backroads east and ended up at Mt Rainier. Many stops and photo ops later, as we headed home, we heard the news that the mountain blew. We saw footage of the devastation on TV, and even saw cars covered in a fine powder (ash). It was pretty awesome, and we were very lucky that I had decided to change my plans about going to the mountain.
To this day, I don't know why I decided to alter our plans in mid stream. There was just "something" about the sky and those "clouds," which we later learned was the ash cloud. We would have been caught up in the fallout, on a motorcycle, and susceptible to all kinds of problems. We made it home just fine, with one of those "dates to remember" stories.
So in honor of the 25th Anniversary of the Mt St Helens eruption, here is a bunch of links about the mountain, and how it changed the lives of Washingtonians ever since.
From The OlympianMount St Helens - 25th Anniversary

Historic blast draws tourists
Mt. St. Helens web cam
See more photos of Mount St. Helens before, during and after the 1980 eruption
Mt. St. Helens special section
Olympia resident skips trip; friend killed in eruption
The Mountain's Casualties
St. Helens has a lethal partner
From
The Seattle Post-Intelligencer
Mount St. Helens still shrouded in secrets
More 25th anniversary coverage
See photo gallery
From The News Tribune
Lives, punctuated
Most of volcano's victims were in supposed safe areas
Memory of St. Helens' wrath endures
From
The Yakima Herald Republic
Memories of the Mountain