American forces in Iraq fail to blunt roadside bombs
It looks like the weapon of choice used by insurgents in Iraq is the Improvised Explosive Device (IED), as shown in this article in the San Jose Mercury News. More Americans dying from IEDs in Iraq.

. . .deaths due to IEDs rose by more than 41 percent in the first five months of this year, compared with the same period last year, and account for nearly 52 percent of the 261 U.S. combat deaths so far this year, according to statistics assembled by Iraq Coalition Casualty Count, an Internet site that uses official casualty teports to organize deaths by a variety of criteria. . .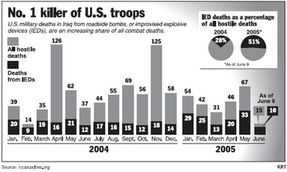 Story by:
MARK WASHBURN
Knight Ridder Newspapers