Finally Home and Reunited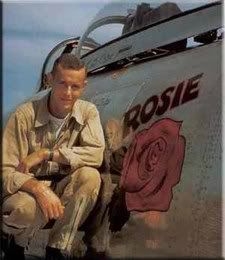 On Sept. 16, 1952, Air Force Captain Troy "Gordie" Cope and his wingman, both flying F-86 Saber Jets from Kimpo Air Base in South Korea, encountered six MiG-15s of the North Korean Air Force. Cope was flying near the Yalu River, separating North Korea from China, on combat air patrol in an area known as "MiG Alley." In the ensuing aerial dogfight, Cope lost contact with his wingman and was never seen again.
More than 1/2 century later, Capt Cope is repatriated. He was buried with Full Military Honors on May 31st, 2005 at the Dallas-Fort Worth National Cemetery. His remains were found in February this year in China and identifed and finally repatriated.
Welcom home Captain Cope. God bless you and your family.
Going Home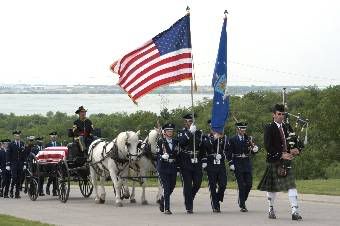 DALLAS -- A caisson carries the remains of Capt. Troy Cope as an Air Force color guard leads him to his final resting place during a repatriation ceremony at the Dallas-Fort Worth National Cemetery here May 31. Captain Cope's remains were recovered in China after his F-86 Sabre was shot down in 1952 during the Korean War. (U.S. Air Force photo by Tech. Sgt. Julie Briden-Garcia)

The DoD Release is here.
From 2/25/2005: Family finally gets official word on Korean War vet's fate
From 3/4/2005: AF maintains contact with missing servicemembers' families
Thanks and a Salute to Pam.