For 35 Years, a Perfect Fit
The U.S. Army's Only Farrier, Who Shod Arlington Cemetery's Horses, Has Retired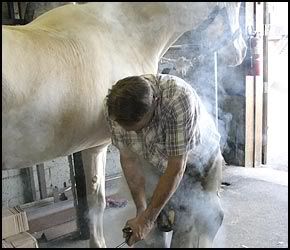 Pete Cote hot-fits a new shoe onto Casperina, one of the horses that pulls funeral caissons at Arlington National Cemetery.

(James M. Thresher -- The Washington Post)
On the solemn occasion of a funeral at Arlington National Cemetery, the most enduring image may be that of the horses: big and bold, black and gray, pulling the traditional caisson laden with a casket containing a soldier's body.

The man who shod those horses was Pete Cote.

For 35 years, as the official farrier at Arlington's Fort Myer, Cote tapped special shoes onto the hooves of horses that rode in nine presidential inaugurations, the funeral processions of presidents Lyndon B. Johnson and Ronald Reagan, and thousands of military burials. . .


You know, this is really a great story. Mr. Cote is a "one-of-a-kind" and the Army will really miss him. I wish him well in retirement.
See the full story
here
.
By Jerry Markon

Washington Post
Staff Writer
Thursday, June 9, 2005; Page VA18