A Bridge over the Grand Canyon?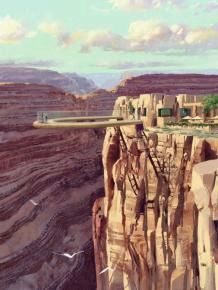 Not really. But, there is a "Sky Walk" being constructed that is made of high strength glass 60 feet over the Canyon's rim, 130 foot horsehoe shaped and 4000 feet over the Canyon floor.
I have been to the Grand Canyon once. It is VERY impressive. If you have not visited, it is something that should be on your list of American "Sights to See." I have hiked the trail and suffered the return trip. Although my trek was only half way down, the return hike was brutal. The views are intense and immense at the same time. There are no words I can use to describe it. Pictures and film do not replace the experience of being there.
The Hualapai Tribe, which also runs the Grand Canyon Resort, expects to have this project complted by the end of the year. Imagine, a glass walkway that goes 60 feet from the edge of the Canyon rim, 4000 feet above the Canyon floor. What an experience that would be. What views. What sense of disorientation. Think of the adreneline rush. I wonder if you have to sign a waiver to go on it.
I can tell you, Cauleen won't go on it. I would. I may need to plan a trip just to say I've been there.
Here is the story from
gizmag
.
And from
KNTV Channel 13 News
:
. . .A fantastic glass bridge arcing 60-feet out over the grand canyon -- giving visitors an unobstructed view 4000-feet straight down.

Sheri Yellowhawk, tribal executive says "That's gonna be a scary view. It's gonna be exciting. It's gonna be a once in a lifetime view.

It may be scarey indeed having nothing more than sheets of glass separating you from eternity. But the bridge has been engineered to withstand 100-mile per hour winds, magnitude 8 earthquakes -- and hold the weight of 71-jumbo jetliners. . .

More
here
.