From Tacoma, WA,
The News Tribune
, this front page showing the fallen Washingtonians, since the Global War on terror.
An illustrative reminder to all that
FREEDOM
ISN'T
FREE
!!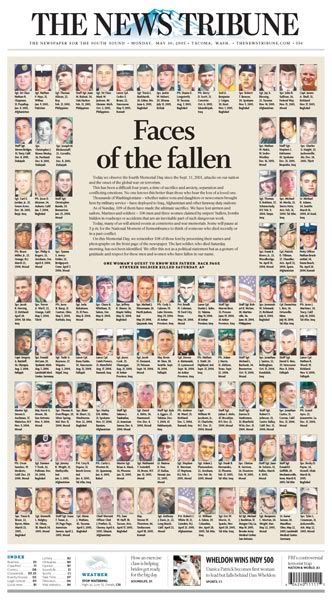 Faces of the fallen
THE NEWS TRIBUNE

Last updated: May 30th, 2005 04:49 AM

Today we observe the fourth Memorial Day since the Sept. 11, 2001, attacks on our nation and the onset of the global war on terrorism.
This has been a difficult four years, a time of sacrifice and anxiety, separation and conflicting emotions. No one knows this better than those who bear the loss of a loved one.

Thousands of Washingtonians – whether native sons and daughters or newcomers brought here by military service – have deployed to Iraq, Afghanistan and other faraway duty stations.

As of Sunday, 109 of them have made the ultimate sacrifice. We have lost airmen and sailors, Marines and soldiers – 106 men and three women claimed by snipers' bullets, bombs hidden in roadways or accidents that are an inevitable part of such dangerous work.
Today, many of us will attend events at cemeteries and war memorials. Some will pause at 3 p.m. for the National Moment of Remembrance to think of someone who died recently or in a past conflict.

On this Memorial Day, we remember 108 of those lost by presenting their names and photographs on the front page of the newspaper. The last soldier, who died Saturday morning, has not been identified. We offer this not as a political statement but as a gesture of gratitude and respect for these men and women who have fallen in our name.
Update:
The soldier not pictured aboveis SPC Philip N. Sayles. His name was released today by the DoD. See post
below
.
Our condolences to each and every one of these 109 Brave Souls. To the families, friends, and comrades, each of them are in our prayers, as countless warriors on the front lines and in the supporting roles pursuing freedom for others.