U.S. Mint Strikes Marine Corps Commemorative Silver Dollar
This is a really great story. The US Mint will strike a Silver Dollar in honor of a Military Service. In this case, the US Marine Corps. I am proud to be a member of the US Military, although retired, a member just the same.

Congratulations Marines, this Soldier SALUTES you! HOOAH!!

Story here.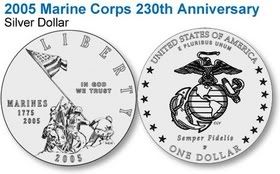 This is the first time the United States has honored a branch of the military with a commemorative coin, according to information provided by the Mint. Surcharges from the sale of 2005 Marine Corps 230th Anniversary Silver Dollars will be paid to the Marine Corps Heritage Foundation to help construct the National Museum of the Marine Corps in Quantico