Memorial Day was officially proclaimed on 5 May 1868 by General John Logan. It was first observed on 30 May 1868, when flowers were placed on the graves of Union and Confederate soldiers at Arlington National Cemetery.
The first state to officially recognize the holiday was New York in 1873. By 1890 it was recognized by all of the northern states. The South refused to acknowledge the day, honoring their dead on separate days until after World War I (when the holiday changed from honoring just those who died fighting in the Civil War to honoring Americans who died fighting in any war).
It is now celebrated in almost every State on the last Monday in May (passed by Congress with the National Holiday Act of 1971 (P.L. 90 - 363) to ensure a three day weekend for Federal holidays), though several southern states have an additional separate day for honoring the Confederate war dead: January 19 in Texas, April 26 in Alabama, Florida, Georgia, and Mississippi; May 10 in South Carolina; and June 3 (Jefferson Davis' birthday) in Louisiana and Tennessee.
The traditional observance of Memorial Day has gone by the wayside. It's to time consuming. It's another day for progress and commerce. It' not important to remember why we remember. Many Americans forgotten, or chosen to forget, the meaning and traditions of Memorial Day. Many people think the day is for honoring any and all dead, not just those fallen in service to our country.
There are a great many where the graves of the fallen are ignored and neglected. Many people don't remember, or even care for the proper flag etiquette for this day. While some towns and smaller cities still have a Memorial Day Parade many, especially the larger ones many years.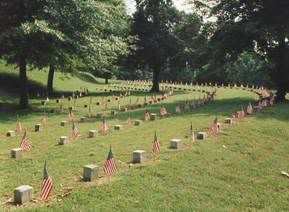 Memorial Day at Vicksburg National Cemetery, Mississippi

(Pictures below via Iraq War Today)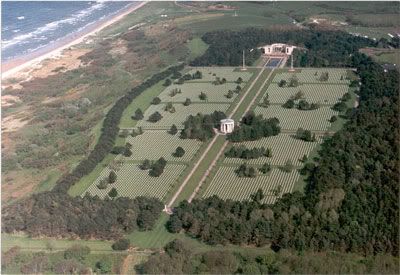 Normandy
Gettysburg National Cemetery
Arlington National Cemetery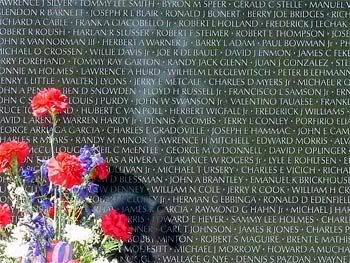 Vietnam Memorial Wall
Additional Resources:
Defense Link has a special page dedicated to Memorial Day 2005 here
• U.S. Army Center of Military History
• National WWII Memorial in Washington, D.C.
• WWII Memorial Dedication Photos
• Oliver Wendell Holmes, Jr. Speech of 1884
• White House Commission on Remembrance
• History of Memorial Day
• PBS' National Memorial Day Concert 2005
• National Memorial Day Parade
• The Tomb of the Unknown Soldiers
• Vietnam Women's Memorial Foundation
• Dept. of Veteran's Affairs - Memorial Day Page
• Rolling Thunder@, Inc.
• Library of Congress: Today in History (May 30)
• American Battle Monuments Commission
• FirstGov.gov: Memorial Day
• Korean War Veterans Memorial