Colored Rice??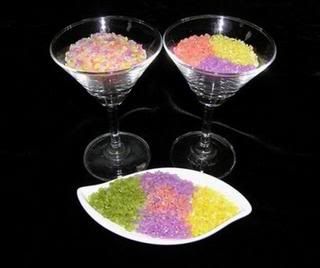 Wed Jun 29, 8:35 PM ET
TAIPEI, Taiwan - With Taiwanese youngsters increasingly drawn to Western hamburgers and fries, government researchers are trying to lure them back with something more traditional — sort of: rainbow-colored rice.
Cauleen likes rice. She will have rice over potatos any day of the week, no, make that EVRY meal of EVERY day of the week, if she had the choice.
Fortunately I like rice, too. But i NEED the occasional mashed potatos an gravy or French Fries (American Fries??).
I guess this is a good idea to try to psychologically get kids to think of rice other than, well, rice. See the whole story
here
.
I guess this also falls in line with
colored salt
.