Vacation Idea
This looks neat. I guess if I ever find myself in Lancaster County, PA, I'll have to look into this place: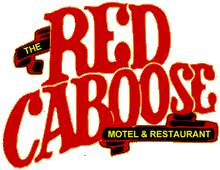 There's something about trains that have always fascinated me. I don't know what it is, I've never considered trains as a hobby. I don't have any model trains or train sets, I just think there is a sense of freedom associated with trains.
I grabbed the logo and picture from the web site. This is neat. There are different themes for each caboose. The dining car is Victorian and the menu looks pretty darn good.
A description of the cars:
Caboose Suites
-queen bed with love seat, or
-2 double beds
-including microwave oven and refrigerator
Honeymoon Caboose
-All the features of a suite and a whirlpool bath
-A private deck viewing Amish farmland
Of course, I don't plan to visit PA anytime soon, but I'll try to keep this place in mind if I do.
Signing Off. Until next time, I'll see ya on the Blog! drh.